Colin Shaw of Roving Romania
is a founder member of the
Association of Ecotourism
in Romania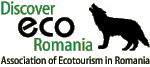 Roving România
Strada T. Vladimirescu, Nr.36,
Comuna BOD,
RO-507015 Brasov,
Romania
Telephone: +40 (0)724 348272
or +40 (0)744 212065
E-mail: [email protected]
www.roving-romania.co.uk
Roving România
Adventure Travel & Exploration
ABOUT US
Roving Romania specialises in very small group tours and expeditions – our vehicles offer comfortable travel for up to 4 passengers & luggage on longer journeys, and 6 people for day trips. For larger groups we can run two 4×4's together, or use a small minibus if the rough road potential is not needed. We can also accompany you as guide/translator on tours with your own car, a hire car, or by train.
Responsible travel
We specialise in accommodation with village families and small pensions, where the welcome is warm and generous, and where you will be served with delicious home-prepared food – often using organic products from the owner's garden. Village families and private guesthouses are often of a better standard than many hotels – and they show a greater concern for your well being!
Casa Felicia Guesthouse, Sucevita, Bucovina
Tailor-made Prices
Most of our tour planning and consultancy is done by e-mail, direct with the client rather than through travel agents. The cost of tailor-made tours depends upon the number of people, number of days, distance, means of transport, accommodation type, etc. Some things in Romania are cheaper than in the West, other things are more expensive. We live in Romania so don't have Western salaries and overheads to support. Then again we run very small group tours so are not aiming at the budget travel market – personal service doesn't come free! Much of your tour price benefits local people, small businesses, ecology and conservation projects, etc, IN Romania. We believe our prices are very reasonable, and all past clients have commented on the exceptional value for money for such a personalised service.
Travel Planning and Consultancy
Our Travel Planning and Consultancy Service offers advice and information for independent travellers, with or without bookings and reservations.
Colin Shaw with Land Rovers (L) and,
at
Rasnov Saxon Fortress (R
The Team
Roving Romania is owned and run by Colin Shaw, with the occasional help of two British friends and colleagues living in Romania, and a network of local guides and contacts. Colin has lived and worked in Romania since 1994, but is originally from Sussex. He speaks and writes fluent Romanian and knows the country well. He is a keen photographer and you can find his photos in several Lonely Planet, Rough Guide, Bradt, and Insight Guide guidebooks to Romania, Transylvania and other countries. Colin runs a 1998 Land Rover 110 Defender, specially adapted for travel in Romania. His specialist areas include: the Carpathian Mountains, Maramures, Saxon Transylvania, Bucovina, the Danube Delta, rural culture, crafts, monasteries, bird watching, and railways.
John Matthews is from Derbyshire and has been in Romania since 1996. With his Romanian wife and young son, John runs a small pension in Bran, a central heating company, and works with Roving Romania when needed. He speaks good Romanian and runs a VW Tiguan 4×4. His specialist areas are: the Brasov area, Saxon Transylvania, castles and forts.
Gavin Bell is also originally from Derbyshire and works for the ADEPT Foundation in Romania, focussing on rural development and sustainable tourism. He is married to Andreea from Brasov, speaks reasonable Romanian and drives a 1998 Land Rover Discovery. His specialisms are wildlife, Saxon Transylvania, and Romanian National Parks. Gavin supports Roving Romania by offering day trips in the Sighisoara area.
Please let us know how we can help YOU!
We hope this information will whet your appetite for a visit to Romania – an extraordinary country as yet unspoilt by the ravages of mass tourism.
Discover the REAL Romania with Roving Romania!