Colin Shaw of Roving Romania
is a founder member of the
Association of Ecotourism
in Romania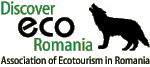 Roving România
Strada T. Vladimirescu, Nr.36,
Comuna BOD,
RO-507015 Brasov,
Romania
Telephone: +40 (0)724 348272
or +40 (0)744 212065
E-mail: [email protected]
www.roving-romania.co.uk
Roving România
Adventure Travel & Exploration
NEW! Lynx and Bear searching in the Bucegi Mountains!
NEW! Day trips with Gavin Bell in the Tarnava Mare and Sighisoara area!
AREA 1: Brasov / Piatra Craiului National Park / Bucegi / Saxon Transylvania:
For a FULL DAY you can choose 2 or maybe 3 of the options below – except for Options 11, 12, 14, 15 and 16, which are in themselves full day options. Full Day Trips cost 120 Euros per group per day for our time (100 Euros for 1 or 2 people), plus 20 Euro cents per kilometre for the use of the Land Rover with driver. Option 14 (Lynx and Bear searching) is run by a local wildlife specialist and priced as a tailor-made 1 or 2day trip – please ask for details. Most day trips from Brasov will not exceed 200 kms (40 Euros) – where they do, a distance/cost estimate is indicated below.
HALF DAY trips, which consist of just ONE of the Options from 1 to 10 plus 13 below, cost 70 Euros per group, plus 20 Euro cents per kilometre as above, with additional costs as shown.
The above costs are PER GROUP (not per person) with a maximum group size of 6. In addition there will often be entry fees per person, photo permits, donations, etc required. These are listed below under each activity. Day trips are for local payment only, in cash Euros, £GBP, or Romanian Lei.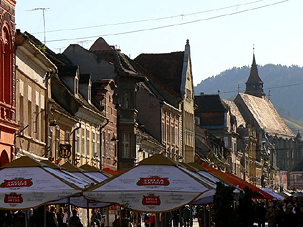 1. Tour of historic Brasov – anything from a 30 minute "flying tour" by Land Rover, to a 4 hour comprehensive exploration on foot. Discover remnants of the city's old fortifications; look at Orthodox and Lutheran churches including the massive "Black Church" that dominates Brasov – the largest Gothic cathedral east of Vienna. Entry fees variable but not likely to be more than 2-3 Euros per person. Some places (like the Black Church) have unpredictable opening hours/days.
2.Rasnov Saxon fortress – a hilltop fort built as a refuge by German Saxon settlers in the Middle Ages to protect themselves against frequent raids by Tartars and Turks. Look for the legend of the extraordinary 147 metre deep well cut through solid limestone! 30 mins each way from/to Brasov and minimum 1 hour visit. Entry fees 3.5 Euros pp, photo permit 3 Euros pp. Open Daily.
Bran Castle – atop a rock in Bran village, this castle was home and palace to Queen Marie of Romania (Queen Victoria's granddaughter). Also mythically linked to Vlad Tepes, The Impaler, and thus very indirectly to the "Dracula" story. Very touristy in summer but worth a visit if you can cope with the crowds. Note that Dracula is NOT here and never really was! 45 mins each way from Brasov, 1 hour visit. Entry fee 4 Euros pp, photo permit 3 Euros. Open Daily except Monday mornings.
Prejmer Saxon fortified church – the Saxon settlers (see Rasnov above) fortified their village churches as refuges. Prejmer is the largest and most impressively fortified of these with a heavily defended curtain wall and a unique "death organ". 30 mins each way from Brasov, entry fees 1-2 Euros per person. Note: Usually closed Mondays, and entry on Sunday may be difficult if there is a service on.
5.Bear (and wolf) Sanctuary – set up in dense woodland near Zarnesti (1 hour from Brasov) to rescue bears from closed zoo's and private collections. This is the easy and inexpensive way to see European Brown Bear at close quarters! Of the 2 semi-tame wolves of the ex-Carpathian Large Carnivore Project (CLCP), you can still meet "Crai" – the male wolf – here at the bear sanctuary. The sanctuary is not yet open to the public but we have special permission. Open daily by arrangement. 20 Euros per person entry fee plus 30 Euros per group for local guide.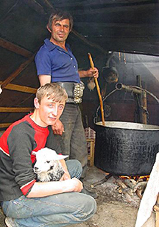 Shepherds camp at Plaiul Foii, at the foot of Piatra Craiului Mountain. Possibly one of the potential costs of EU entry for Romania will be the demise of mountain shepherding and transhumance. Like many bands of shepherds in Romania, those at Plaiul Foii are 4 shepherds with some 400 sheep, which are milked 3 times per day by the shepherds, who also herd the sheep AND make a variety of cheese products. Best times to visit are 12 midday, 6 pm and 5 am (!!!) for milking. Within the Piatra Craiului National Park. No entry fee but either a donation to the shepherds of 5 to 10 Euros, or better still bring a bottle of strong alcohol, cigarettes, or some food (not cheese!). May to September only.
Shepherds making Urda cheese
7. Zarnesti Gorge "Prapastiile Zarnestilor" – this deep and narrow limestone canyon was formed by the collapse of a cave roof. Good for bird watching (Wallcreepers, Alpine swifts, Crag martins, Grey wagtails, Dippers and Buzzards MAY be seen here – though none are guaranteed!). The gorge itself can only be explored on foot – anything from a gentle 30 minute stroll to a 3 hour full exploration. The dramatic closing scenes of the Nicole Kidman/Jude Law film "Cold Mountain" were made here. Within the Piatra Craiului National Park. No entry fee.
Hilltop villages of Magura and Pestera – within the Piatra Craiului National Park. From near the entrance to the Zarnesti Gorge (se above) a rough road climbs steeply to the hilltop village of Magura at 3500 ft, with some of the best scenic views in Romania, and the Bucegi and Piatra Craiului mountains as backdrops. You can just visit Magura by Land Rover and stop for a drink and maybe some of Adriana's excellent home-made cakes, or you can continue for a pleasant 1.5 to 2.5 hour walk along a ridge-top cart track to Pestera village from where we collect you by Land Rover. No entry fee but drinks and cakes cost a little extra!
Magura village, Piatra Craiului Mountains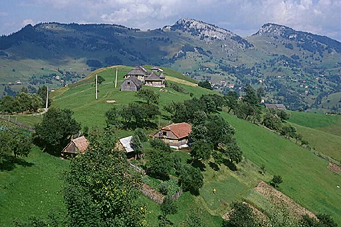 9. Cristianul Mare Mountain and walk back down. Drive to the touristy mountain resort of Poiana Brasov; take the cable car (if running) to the top of Cristianul Mare Mountain and walk back down. Superb mountain and forest scenery. The walk down is steep, mostly on a good cart track although the gravel surface can be slippery in places. Walk down takes 2 to 3 hours for reasonably fit walkers. Cable car costs 5 Euros per person. Cable car runs unpredictably in summer.
10. Dumbravita Fishponds – Special Protection Area for birds. A good bird watching area for keen bird watchers, these reclaimed lakes are primarily a commercial fish farm. However where there are fish there are also various herons and egrets, Marsh terns, Bitterns (if you can only spot them), Buzzards, Harriers, Black kites, and a variety of warblers. 30 minutes each way from Brasov. 1 hour or longer visit. Entry fee 6 Euros per person. Daily by arrangement.

11. Saxon villages and Sighisoara – a longer full day trip from Brasov, visiting several Saxon villages and their fortified churches (see Rasnov and Prejmer above). This tour will not normally include Rasnov or Prejmer, but will take you via Fagaras, Soars (visit fortified church if keyholder is home), the isolated villages of Barcut, Retis and Bradeni, a ride on the Land Rover roofrack over a gravel track in wild scenery (low speed and safe but you need to be able to climb a narrow ladder up to the roofrack), Apold (visit fortified church under restoration), and Sighisoara (see below). Time in Sighisoara will be short on such a day tour. Return to Brasov by main road. Entry fees depend on which places are visited – expect a donation of 2 Euros each at Soars, minimum 5 Euros each at Apold, and maybe 3 Euros each for the Clock Tower in Sighisoara if time allows. Fuel costs for this trip will be higher – about 60 Euros total. Clock Tower may be closed on Mondays.

12. Sighisoara and the Charcoal Burners. A more direct full day trip to Sighisoara taking a shorter route through a few Saxon villages and with more time to explore medieval Sighisoara, its impressive Clock Tower, and its narrow cobbled streets. A walking tour and quiz of Sighisoara will draw your attention to the most interesting elements (takes about 1.5 hours) AND will offer you a small but valuable prize! On the return journey we detour on rough roads to visit a couple of charcoal burners near the isolated Saxon village of Viscri (also a very good bird watching area). Take home a piece of charcoal to keep your fridge odour free! Fuel costs 60 Euros total per trip. Clock Tower may be closed on Mondays. Entry fees variable but expect 3 Euros for the Clock Tower and a donation to charcoal burners – better still leave them some food and alcohol for sustenance!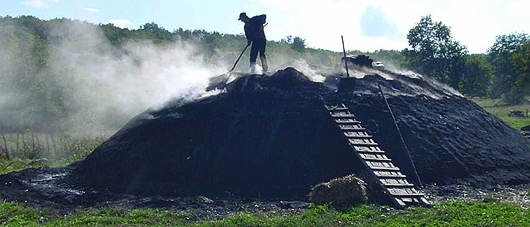 13. Bear Watching Hide. This is an early evening activity from about 6pm until just after dusk. This is also totally dependant upon the one effective hide in the area not being prior booked. Not usually available during the hunting season. An evening visit to the hide costs as follows: 25 Euros per person for the visit (may be more if only 1 or 2 paying visitors), additional 25 Euros for every photo camera taken, and an additional 50 Euros for filming or video. In addition you will need us, or a local guide to go with you, and transport, the costs of which must be added.

14. Walking and exploring the Transylvanian Plateau with a view to seeing birds of prey, owls, etc. This could be with us travelling by Land Rover in the Transylvanian Plateau to the north and west of Brasov – in part the same area as that to be explored in Activities 11 and 12 above.. You would need a full day.

15. Walking in the mountains with a view to seeing birds of prey, etc. This would be best with a local mountain guide and is thus best achieved from Zarnesti as a base. We can also recommend a 2 to 6 day end to end trek in the Piatra Craiului and Bucegi Mountains with a local mountain guide from Zarnesti. Cost usually 60 Euros per day for the guide plus expenses.
*NOTE: Local travel by horse-drawn cart. This can be ADDED to Options 5, 6, 7, 8, and 15 for LOCAL transport in the Zarnesti / Piatra Craiului area at an additional cost of 25 Euros per group per day. It is a far more environmentally friendly means of transport than the Land Rover, and enables you to see local life at a more leisurely pace! In winter horse-drawn sleighs are available – bring warm clothing!

E-mail: [email protected]
Discover the REAL Romania with Roving Romania!